Finding the ideal toy for your child can be difficult. Every year, it seems like there are endless new innovations and hot items added to the market, which is exciting for kids but it can make your decision feel 10 times more difficult. If you're in the middle of planning out all your Christmas shopping, you've come to the right place. Thanks to online ordering, getting Christmas gifts for the holidays is easier than ever.
Below, you'll find the top picks for this Christmas sale for kids of all ages and if anything catches your eyes, grab it quickly to avoid any disappointment between you and your kids. Without further ado, let's jump in!
The first-round shape 4G LTE Music Smartwatch Phone is specially designed for Next-gen Kids and it will be the best Christmas present for your kids. Discover the amazing all-in-one device, a combination of phone, music player, camera, clock, GPS tracker, and fitness tracker. One of the coolest on-the-move entertainment that the kids ever had.
2020 Dadsnet Silver Award
Our myFirst Fone R1 had received a silver award from Dadsnet. The myFirst Fone R1 was named Best Tech Toy and Best Outdoor Toy for its functionality in geo-fencing and keeping your children safe. With GFK approval as the No.1 Watchphone Brand in Singapore, the myFirst Fone R1 is undeniably practical and trustworthy; the myFirst Fone R1 is the device that all parents choose!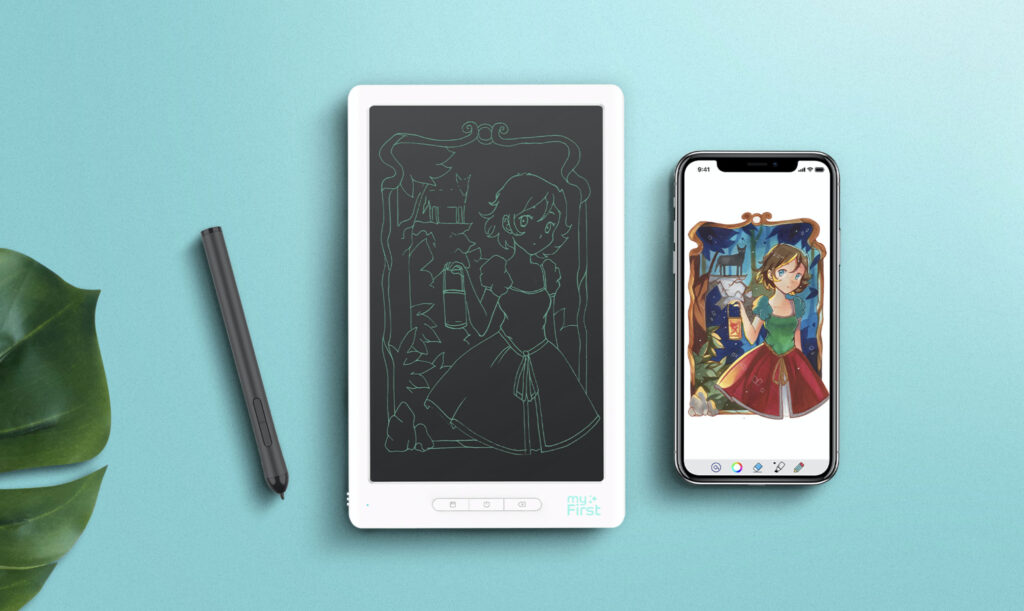 With built-in memory, it can now save your child's every single masterpiece. Be the first parents to witness their growth with myFirst Sketch Book and together cherish the moments in your child's drawing world. Pair with our Sketch Book app, let your child draw with wholehearted by adjusting the font thickness, pens, tip size, and colour that creates a different feel of writing and drawing on this kid's digital sketch pad. Children can spread their wings and sore up by expanding their knowledge and creativity.
2020 Dadsnet Silver Award
Only being launched officially this year, our myFirst Sketch Book had also received a silver award from Dadsnet. myFirst Sketch Book garnered its first award in the industry for being the Best Tech Toy and also the Best Arts & Crafts Toy. Being a paperless solution with instant digitisation for kids and even adults, the Sketch Book deserves its recognition and should be the go-to paper replacement for kids across the globe. Grab this best Christmas gift for your young ones.
We have a few hot selling kids cameras that will be loved to be used by your kids. myFirst Camera 2 is one of the best kids' cameras to be used. This 8MP camera with a video resolution of 1920 x 1080 pixels is perfectly intended for kids aged 5 to 9 and comes with a decent set of features to keep the kid's mind occupied. An appeal of this kid's camera is that this camera can be used for underwater photography. IPX8 waterproof of myFirst Camera 2 can be used up to 3 meters underwater for 180 minutes. But parents, make sure you check the waterproof casing is highly secured before diving into the pool!
Amazon Top 20
Amazon customer we are very sure you will be keen to purchase the myFirst Camera 2 as we are listed in the top 20 in Underwater Photography Cameras by Amazon. You may purchase myFirst Camera 2 right in our Amazon store and this will be the best Christmas present for your kids.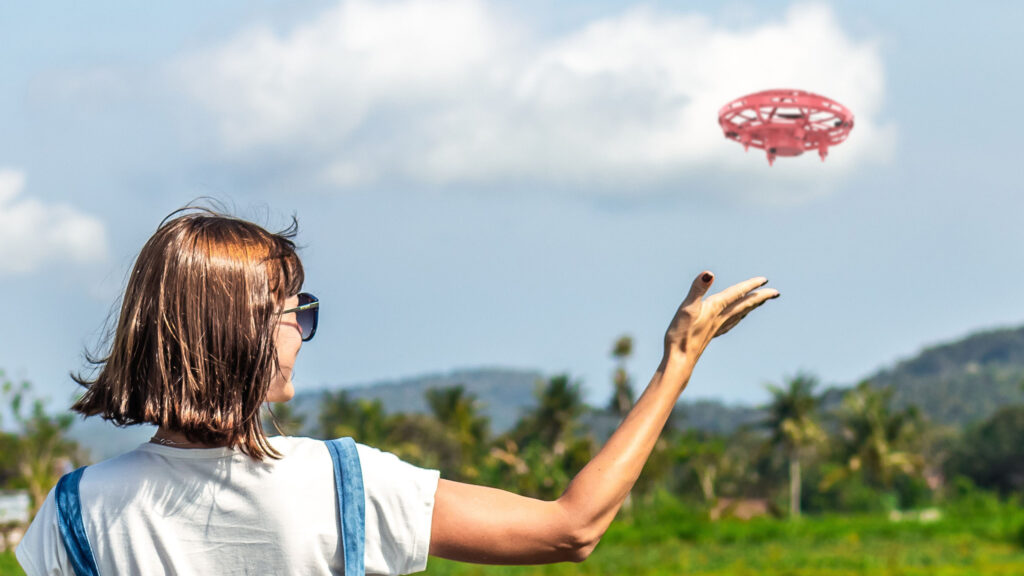 myFirst Drone Play! is an excellent way to keep kids active and outdoors while still allowing them to use the latest technology and gadgets that they enjoy. Simply throw the drone into the air and watch it fly through the air using altitude hover. It will easily avoid obstacles thanks to the built-in sensors, and it will not fly too high off the ground due to the proximity sensors. The drone is enclosed in a cage, making it safe for children to play with, and it is also rechargeable. Do check out the review by The Gadget Show, and this will be a great little Christmas gift for your young kids.
---
Tempted to grab these items now? On 7th December, we'll start our very own Christmas sales by giving up to 50% discounts on all myFirst products! If you do purchase 3 items or more in a single receipt, we'll throw in an additional 10% off the two lowest-priced items with our special code < XMASMYFIRST >. And the best part of all, if you do purchase above $120 / S$150 / £80 / 990 kr we'll give you free shipping! *tnc apply*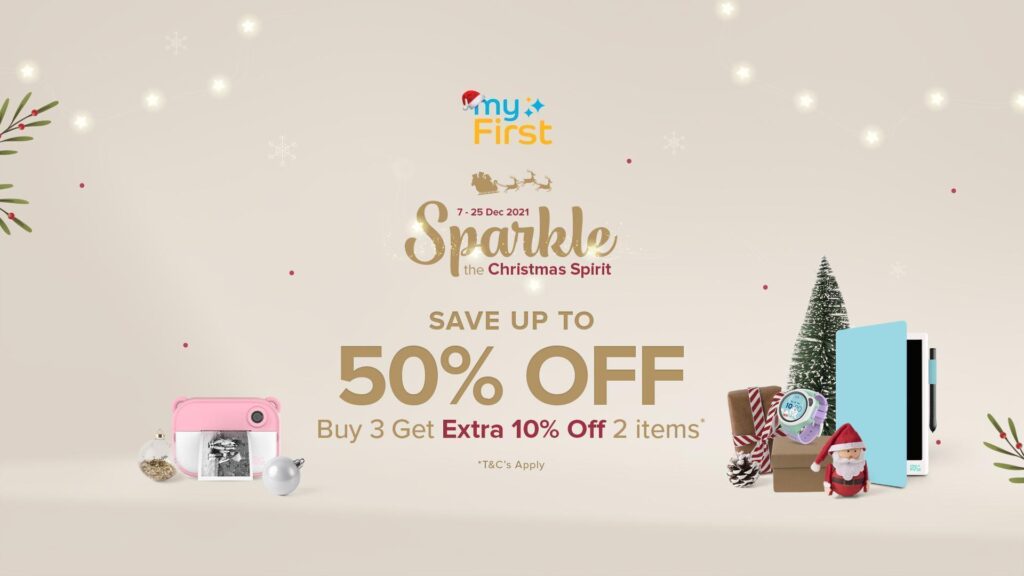 ---
Terms & Conditions:
Promotion is valid from 7-25 December 2021 for our official online store.
Promo code is applicable for all products except for myFirst Camera Insta Wi & all of myFirst Fone R1 Accessories.
Promo code will be applied to the lowest priced items of the total order at the end of the checkout page.
Promo code is limited to ONE(1) use per customer.
Only ONE(1) promo code allow to add to the checkout page.
Products purchased during a promotion campaign will be covered under a THIRTY (30) DAYS Warranty only
Strictly NO RETURN/REFUND
Free Shipping is available for selected countries/regions only.