The Chinese New Year celebration is one of the most delightful times of the year, and it is celebrated by the majority of countries throughout the world. There are many aspects of this event that you will like (food, rituals, Chinese New Year decorations), but the memories you make with family and friends will be the most memorable. How do memories form? Of course, by capturing more pictures with your loved ones during the festivities. Typically, parents are in charge of taking photographs; but, this year, why not let your young kids take more images and make more memories on their own terms?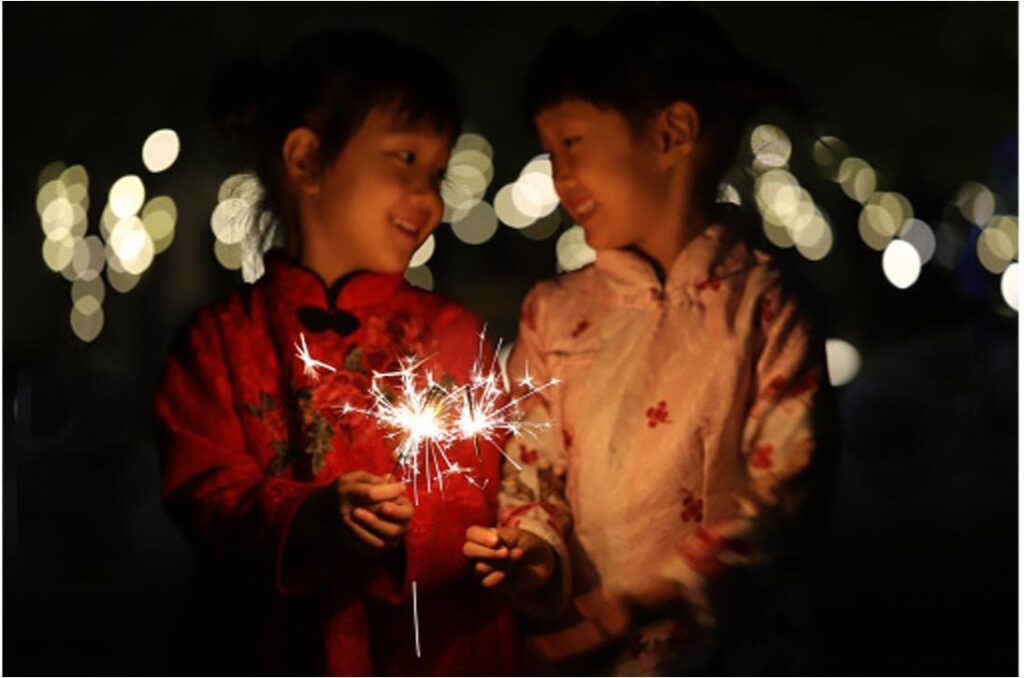 If you are worried, they may damage your phone during the photo-taking session, put your fears aside and get them a myFirst Camera Insta Wi for this Chinese New Year. This instant camera is specially designated to be uncomplicated enough for a child to use and is built with a cute-yet-robust design that can easily tolerate more than a few accidental drops or throws. If you're not familiar with the Insta Wi, Insta Wi can snap photos, record videos, print images on thermal-ink paper, and even print out labels and it's super easy to use the camera anywhere and anytime.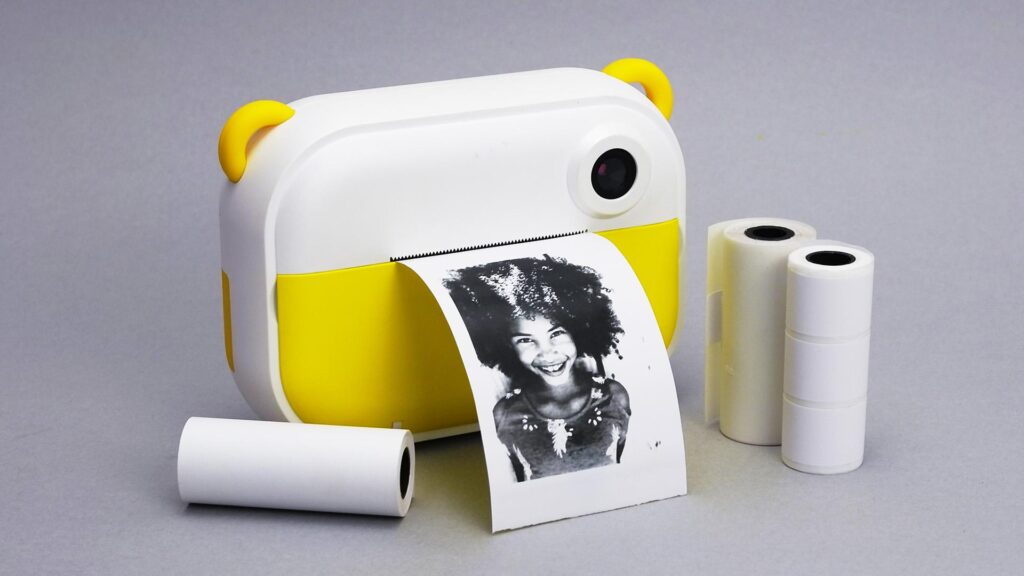 Insta Wi Features
Using the camera is an absolute breeze too. The Insta Wi comes with two cameras, a main front-facing camera with a focus distance of 50mm, and a rear selfie-cam with a focus distance of 20mm for those closer shots. The camera can click pictures at resolutions of 6, 9, or 12 megapixels, and even perform HD video recording at 1080p or 720p (at 30fps) with audio, while a 2.4″ IPS LCD panel on the rear of the camera acts as your viewfinder, letting you compose your shots. To make things even more interesting, the Insta Wi comes with its own set of pre-installed filters and frames to make taking photos and videos a great deal of fun, without having to hand your kid a smartphone!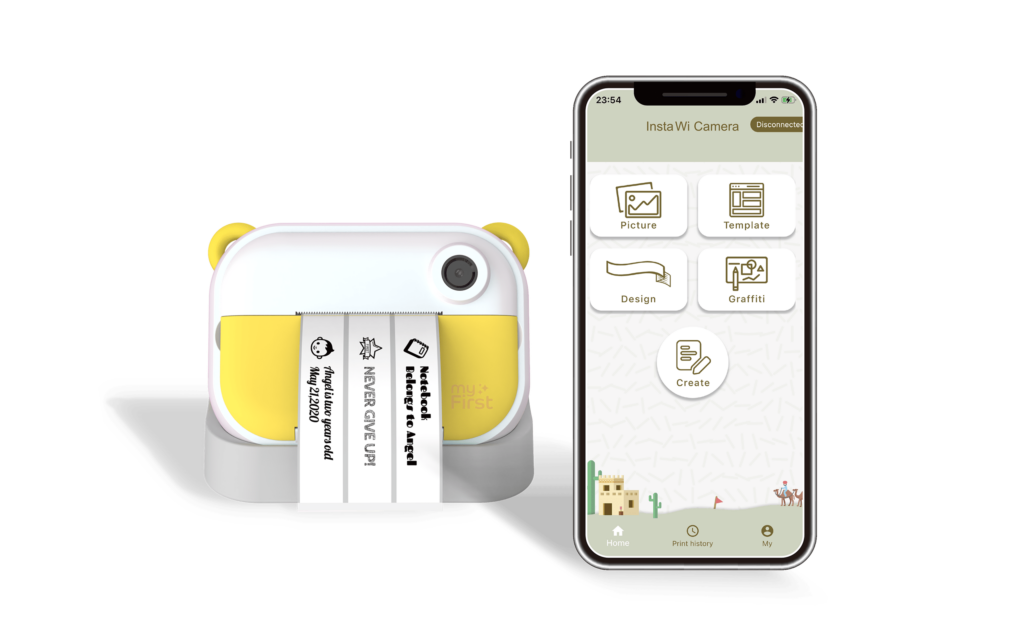 Connect Wirelessly with App
With the dedicated app (myFirst Insta Wi), you can also print your mages directly from the smartphone within 10 seconds with a crisp and clear shot. Not only that, this app manages to customize labels by drawing, or typing text or symbols. Simply edit what you need for the day, print it off with the instant camera, and mark it on any of your children's or other family members' belongings. We believe that you will be taking a lot of images with myFirst Camera Insta Wi during the Chinese New Year celebrations and that you will be printing those pictures to present to someone as a gift, so why not select this camera as a gift for your family and friends?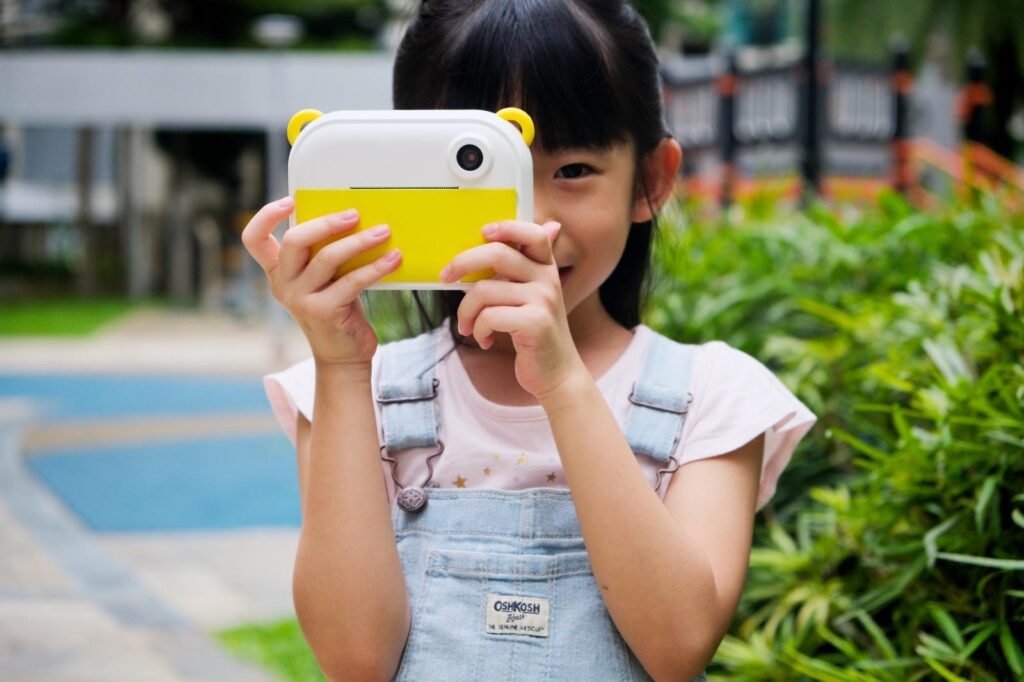 Our Insta Wi comes with its own thermal printer that makes printing easy and cost-effective without requiring complex parts like expensive ink cartridges and it has a built-in 1,500mAh battery that gives up to 5 full hours of continuous usage and comes with a cradle to dock it on.
Store Images Digitally or with Memory Card
The greatest part is that this instant camera has a memory card slot, so your kids may digitally store images and videos on an SD Card, and you can subsequently upload those media through WiFi to your smartphone for editing or sharing on social media of your Chinese New Year celebration. If you want to transfer the photos or videos to other devices, such as a laptop, a USB2.0 slot on the side lets you easily connect the camera to your computer for transferring images, editing them in professional software, and printing them out in color on a desktop printer. Isn't it nice to have an Insta Wi?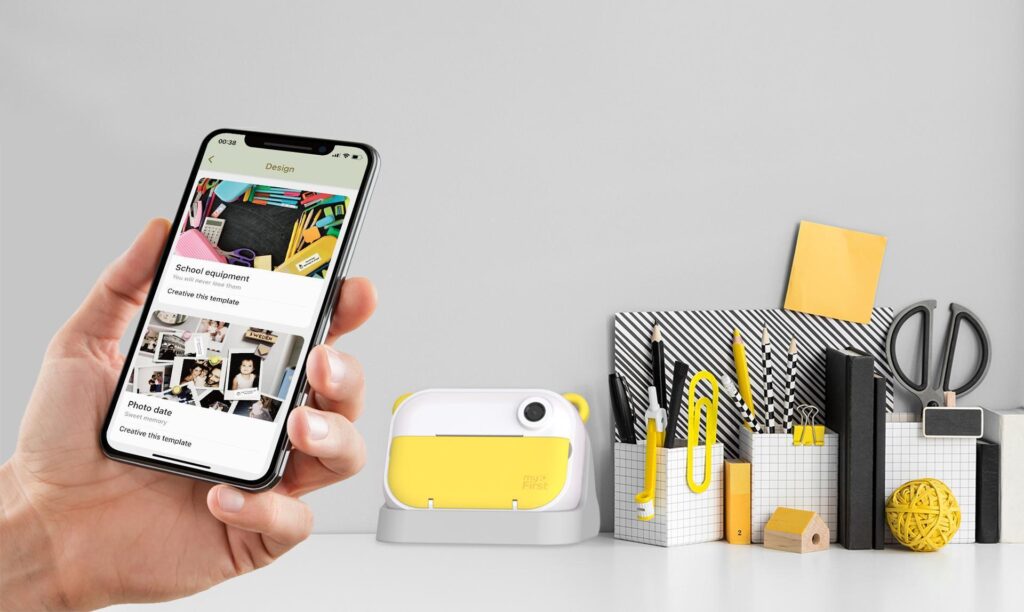 Overall, for an all-in-one kids camera and portable printer, myFirst Insta Wi is an amazing merge of an instant print digital camera and portable printer which will excite anyone in the family for this Chinese New Year. Most of you love to take pictures using your phone to look back and reminisce, but nothing can beat a physical photo. There's something about a printed photo that just means more. A photo lasts a lifetime. So, capture lasting memories with myFirst Camera Insta Wi for this Chinese New Year!