Collect myFirst stars and get the OSIM uGlow Beauty Series for free! myFirst has introduced "Glow With The Stars", a referral program where subscribers can invite their friends to subscribe and receive OSIM products in return!
Each subscriber is entitled to a free uGlow Mist when they collect 3 myFirst Stars, a free uGlow Eye when they have 5 myFirst Stars, and a free uGlow Cleanse or a free uGlow IonCare when they have collected 7 myFirst Stars!
A terrific gifting idea for Mother's day. Let Mum step up her skincare routine with OSIM! uGlow beauty series takes care of the skin by cleansing, repairing, and restoring, leaving skin extra refreshed and rejuvenated!
Here's 6 SIMPLE STEPS on how you can get the OSIM uGlow beauty series for free!
1. RECEIVE INVITATION
If you are an existing subscriber, you will receive an exclusive invitation link to the "Glow With The Stars" program.
2. SPREAD THE WORD
When you click the "Get Invite Link" it will lead you to a customized link that you are able to share on your chosen social media platform. Don't hoard the secret!
Alternatively, you could also click the social media icons to share immediately! Pass the message around to your friends, the more the merrier!
3. FRIEND SUBSCRIBE
Your friends will see a page with your promo link when they click on your invitation. Get them to use your promo link when they subscribe to the R plan!
4. REDEEM
When your friend successfully subscribes through your promo link, you will receive a myFirst Star!
5. COLLECT STARS
Collect the amount of Stars depending on the product that you want!
6. REDEEM
Head over to your nearest OSIM concept store, and redeem the product your heart desires!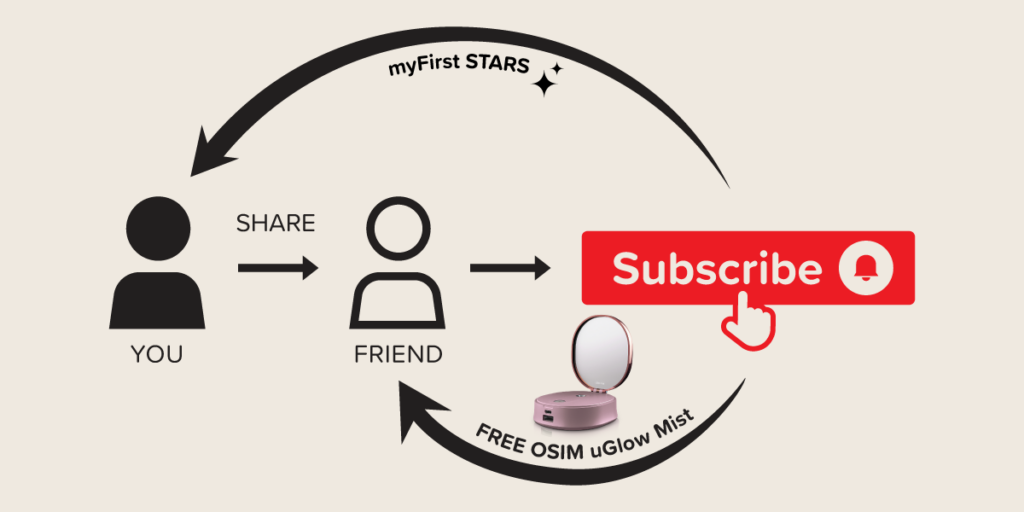 Be reminded that ONE successful subscription will qualify to ONE myFirst Star. You are able to check your progress and see how many Stars you have collected through your account that will be provided through a link that will be sent via email.
HOW TO REDEEM YOUR STARS?
Here's the part you've been waiting for! Once you have enough Stars, let us know and we will help to issue a redemption letter for you to redeem at any OSIM concept stores before 30th June 2021.
So mums and dads, start letting your friends know about our subscription plans and get your free OSIM products! Hurry, promo ends on 6th June 2021, make sure not to miss out the chance to start glowing with the stars!
Learn more about OSIM uGlow Beauty product series at https://sg.osim.com/uglow-complete-set.html
Check out myFirst Stay Connected service page, and experience one of the best mobile plan in town at https://myfirst.tech/stay-connected
For more info on myFirst products, visit our website at https://myfirst.tech/